Bungee Jumping and Clinical Trials: It's All About Quality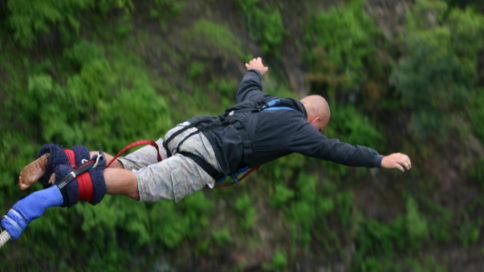 The last thing that comes to mind when the word bungee jumping comes up is safety and security. Just the thought of jumping face-first off a bridge, an insanely high platform or a mountain cliff makes many people a little nauseous. Nonetheless, did you know that several million successful jumps have taken place since 1980? And experts attribute the safety record directly to bungee operators who rigorously conform to standards and guidelines, such as double checking calculations and fittings for every jump?
The cords themselves also have several safety measures that are put in place before they are manufactured.
On the day of your jump, bungee cords are tested, first manually, then with a bag of weights from the jumping height. And finally, a pro bungee jumper takes the leap for a final test; putting their life on the line (pun intended) to ensure your safety.
Would YOU take the leap knowing your cord wasn't thoroughly tested? That a professional had not tested it? Or that the test data was tampered with or compromised?
The same question can be applied to clinical research. Every day, volunteers worldwide take the leap, trusting that protocols will be followed and that the drug they are taking has been adequately analyzed and approved for them to test it. Consumers trust that when grabbing a bottle of vitamins or medication at the local pharmacy that these products are safe, all pertinent tests have been completed, and findings have been accurately tracked prior to obtaining approval from the FDA or other regulatory bodies.
Yet, in their April 2016 draft guidance entitled Data Integrity and Compliance with CGMP, the FDA indicated that "in recent years, FDA has increasingly observed CGMP violations involving data integrity during 39 CGMP inspections." and that "this is troubling because ensuring data integrity is an important component of industry's responsibility to ensure the safety, efficacy, and quality of drugs, and of FDA's ability to protect the public health."
Good clinical practice (GCP) is a foundational element in conducting clinical trials. According to the FDA, "GCP is an international ethical and scientific quality standard for designing, conducting, recording, and reporting trials that involve the participation of human subjects. Compliance with this standard provides assurance that the rights, safety, and well-being of trial subjects are protected, consistent with the principles that have their origin in the Declaration of Helsinki, and that the clinical trial data are credible."
So whether you're bungee jumping off of a cliff in New Zealand, volunteering in a clinical trial or taking medication to soothe that aching head, you want to make sure that you trust your health to a company/system that takes data quality and integrity to heart.
We can't really help you with bungee jumping, but we do provide quality service to our biopharmaceutical clients … every step of the way. Our expertise and commitment to high-quality data have been fundamental in the award of five-year contracts with both the U.S. Food and Drug Administration and the National Institute on Drug Abuse. Our experienced quality assurance team oversees SOP management, audits, and GLP accreditation. All studies are conducted to the highest level of safety and compliance because we care about our study volunteers, and we care about advancing quality global health.
THERAPEUTIC AREAS
Our deep expertise and capabilities in a broad range of therapeutic areas encompasses preclinical and early clinical studies for both small molecules and biologics. We can manage your entire program, as well as provide comprehensive support research services and bioanalytical expertise.
Please see Therapeutic Areas for a fuller discussion of our capabilities and expertise.