Year of the Monkey and Microbiome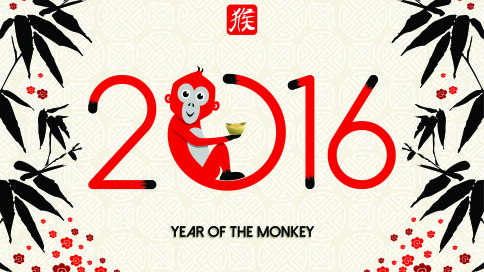 Last week the global community celebrated the start of the Chinese New Year, with this year being the Year of the Monkey (each year is symbolized by one of 12 animals from the Chinese Zodiac). Traditionally, the year of the monkey is categorized as fortuitous and innovative.
So, what could 2016 mean for pharma? Biosimilars, oncology and orphan disease are all hot ticket items, but you can read about that on a hundred news sites and blogs. What we want to focus on for innovation in the year of the monkey are microbiomes. There is some amazing emerging research there.
A quick definition for you: microbiome refers to the collective genes of all the microbes in a community, aka the human body. The short video below from Harvard University gives an excellent overview if you're unfamiliar with microbiomes.
According to Jeff F. Miller, Director of California NanoSystems Institute and corresponding author on a proposal by the Unified Microbiome Initiative Consortium (UMIC), "Understanding how [microbiomes] work might hold the key to advances as diverse as fighting antibiotic resistance and autoimmune diseases, reclaiming ravaged farmland, reducing fertilizer and pesticide use, and converting sunlight into useful chemicals."
In everyone's gastrointestinal tract live a fair plethora of microbes, several hundreds of species. Yes, a bit of an ick factor there; however, these microbes have created an ecosystem within the human body. Microbes play a critical role in not only our immune system by helping to differentiate friend from foe, but according to an article in the Harvard Gazette, they also "regulate wide-ranging physiological, metabolic, immunologic, cognitive, behavioral, and psychiatric traits."
Pamela Silver and James Collins, core faculty members at the Wyss Institute for Biologically Inspired Engineering at Harvard University, have developed a new strain of E. coli bacteria "reporters" that have the potential to give updates on gastrointestinal health and keep diseases at bay. For more info on this process you can read "Bacterial reporters that get the scoop" from the Wyss Institute.
Overall, it's some amazingly innovative science that has far reaching implications not just in healthcare, but for the environment, agriculture, and commodities (like chemicals and biofuels) as well. It will be exciting to see what develops this year. Year of the monkey indeed.
THERAPEUTIC AREAS
Our deep expertise and capabilities in a broad range of therapeutic areas encompasses preclinical and early clinical studies for both small molecules and biologics. We can manage your entire program, as well as provide comprehensive support research services and bioanalytical expertise.
Please see Therapeutic Areas for a fuller discussion of our capabilities and expertise.