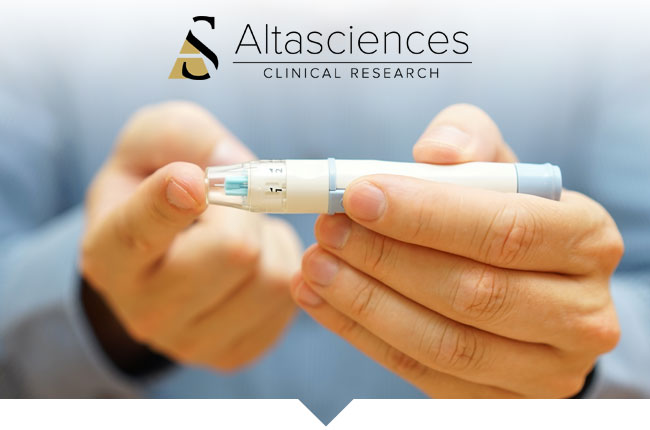 Do you have a metabolic disorders or diabetes trial in your pipeline?
Altasciences conducts preclinical and clinical studies in metabolic disorders from lead candidate selection to proof of concept in patients. The focus ranges from glucose tolerance to pharmacokinetics, comparing obese subjects to those with normal weights.


Demonstrated Experience and Expertise:
A Recent Case Study
STUDY PURPOSE
The primary objective was to demonstrate the efficacy of a glucagon injectable device when compared to an existing treatment in treating insulin-induced hypoglycemia.
STUDY OVERVIEW
A multi-centre, randomized, controlled, single-blind, 2-way crossover study to compare 2 glucagon formulations for induced hypoglycemia rescue in adults with type 1 diabetes.
METHODS
Continuous glucose monitoring (via Dexcom G4)
Euglycemic steady state maintenance
Insulin-induced hypoglycemia via insulin infusion, and bedside glucose readings via Yellow Strings Instrument's (YSI) glucose analyzer
Safety and tolerability assessments related to injection site reactions and hypoglycemia
CHALLENGES AND SOLUTIONS
Time constraints to complete study enrollment were tight. Our flexible recruitment strategies and robust diabetic patient database proved to be key factors in meeting enrollment milestones and achieving a 100% completion rate. In addition, Altasciences was the only clinical facility to complete validation and use state-of-the-art equipment for confirmatory bedside glucose measurements during the insulin-induced hypoglycemia procedure.