LIQUID-FILLED CAPSULE MANUFACTURING SERVICES
Liquid-filled, two-piece capsules offer several advantages over other solid dosage forms, such as ease of scalability and manufacturing, faster absorption, simpler packaging, and higher product stability. Liquid filling also offers the ability to control R&D compounds, which are expensive and in limited supply. They are also known to accelerate product development because they can be made with fewer excipients than other solid dosage forms, such as tablets.
Drug profiles for which liquid-filled, hard-shell capsules would be suitable include complex formulations, low-dose, poorly soluble, and/or highly potent active pharmaceutical ingredients (APIs).
OUR EXPERTISE
Altasciences' integrated CDMO/CRO solutions can take your molecule from formulation to early phase clinical trials, and all the way through to commercialization.
State-of-the-art contract development and manufacturing facility with formulation and analytical laboratories, cGMP manufacturing suites, high-potency area with segregated C/D cleanrooms, and warehouse
DEA License for Schedules I-V, and a dedicated narcotic storage area
Advanced capsule manufacturing processes and equipment, including banding/sealing technology
97% first-time batch release success rate
On-site stability storage and testing, controlled substance testing, and drug product release testing
WEBINAR ― Watch Altasciences' experts detail our manufacturing solutions with liquid-filled capsules.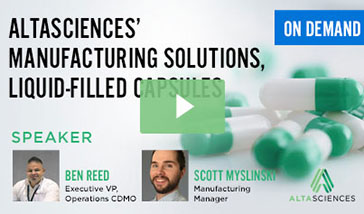 BENEFITS OF TWO-PIECE, LIQUID-FILLED CAPSULES AS A DOSAGE FORM
Poor Water Solubility/Bioavailability ― Bioavailability of poorly water-soluble drugs can be significantly enhanced when formulated as a liquid in a hard-shell capsule, since your API is already in solution or dispersed suspension.
Low Melting Point ― The manufacturing process of APIs with a low melting point can be greatly simplified by producing them in liquid form used to fill hard-shell capsules.
Low Dose/High Potency ― Studies have shown that the incorporation of potent drugs into liquid-filled capsules during formulation and processing significantly reduces the risk of cross-contamination and airborne powder exposure to operators.
Critical Stability ― Liquid-filled, hard-shell capsules protect the drugs from moisture and produce a stable dosage form.
Sustained Release ― With liquid-filled, hard-shell capsules, drug formulation and polymer composition of the capsule can be customized to accommodate APIs with different properties and desired dissolution profiles.
Simple And Cost Effective Formulation ― Liquid capsules require no binders, lubricants, or plasticizers commonly found in traditional solid-dosage forms and soft gels. Aqueous and non-aqueous liquids to semi-solids can be filled and banded.
Combination Filling ― Unlike softgels, hard-shell gelatin capsules offer the possibility of combination filling. Drugs can be encapsulated in the form of beads, micro tablets, or pellets, in combination with the liquid formulation.
Integrated Tamper Proofing ― Banded and sealed capsules provide a non-permeable barrier.
Abuse-Deterrence ― They offer abuse-deterrent benefits because they make it harder to insufflate, inject, or alter the extended-release properties of potent drugs.
Better Than Softgel Capsules ― Thinner wall construction allows for smaller capsule sizes and more efficient and complete dissolution over soft gels.
Unique Branding Opportunities ― Infinite choices of capsule and banding colors provide a wealth of visually appealing product differentiation options, from clear capsules and clear bands to two-color capsules and contrasting band color ― the combinations are endless.
Learn more about the benefits of liquid-filled, hard-shell capsules as a dosage form and how it can accelerate your drug development timeline.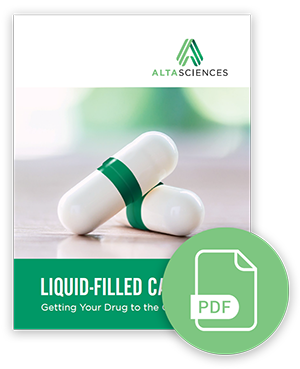 TYPES OF Liquid-filled CAPSULES
Gelatin Capsules: the Market Standard for Many Years
High-quality product matches the stringent requirements of the pharmaceutical industry
Excellent performance in high-speed capsule filling and sealing machines
Can be filled with SSM formulations up to 70 °C
Compatible with a range of excipients for improving bioavailability of poorly soluble drugs
Quali-V® HPMC Capsules: Hypromellose Capsules Made From Plant-Derived Materials
Proven pharmaceutical performance
Meets all compendia dissolution requirements
Compatible with a wider range of excipients than gelatin
Preferred for hygroscopic fills
Exceptional for low-humidity applications, no brittleness
Maintains shell mechanical strength at low moisture contents
Can be filled with SSM formulations up to 80 °C
Ideal for new drug development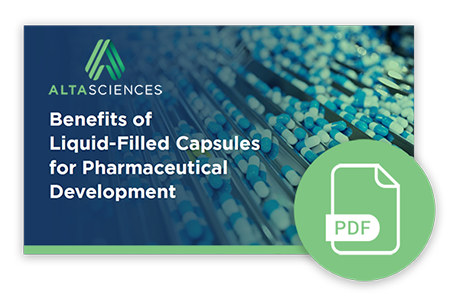 Enteric Capsules
API protection against degradation in the gastric environment
Achieve delayed or targeted release in small intestine
Eliminates need to enteric coat capsules
Increases speed and optimization of enteric performance
For additional information on liquid-filled capsules, download our e-book.
EXPLORE ALL OUR manufacturing AND ANALYTICAL services.