There is growing demand for sterilization of small-molecule parenteral products, including heart medications, eye drops, analgesics, and antibiotics, as well as intravenous solutions, such as glucose, potassium, and saline. To ensure patient safety, these drug products and related instruments commonly used in hospitals must be thoroughly sterilized after being manufactured. Known as "terminal sterilization," this process ensures that no microbial contaminants like fungi or bacteria are present when the product is used.
If you have a product that needs to be terminally sterilized, we can help.
Our Expertise
Altasciences' team of experts can guide you in choosing the most appropriate method of sterilization for your material, and ensure the final delivery of your fully sterilized product.
Our cGMP manufacturing facility, inspected by both the FDA and the European Union Quality Personnel, is equipped with Grade C and D clean rooms in which we develop injectable drug products and topical ophthalmic preparations that can be terminally sterilized after manufacture. The rooms are specifically designed to handle highly potent compounds and products sensitive to contamination on a large scale.
WEBINAR ― Discover the full benefits of terminal sterilization, how it differs from aseptic manufacturing, and its level of compatibility with your product. Case study included!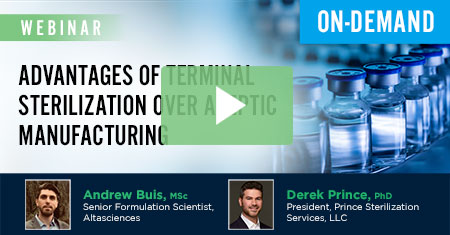 METHOD SELECTION―TERMINAL STERILIZATION OR ASEPTIC MANUFACTURING
Regulatory agencies, such as the FDA and EMA, prefer terminal sterilization over aseptic manufacturing, as it provides a higher level of sterility assurance.
There are basic differences between the production of sterile drug products using aseptic processing, and production using terminal sterilization. Terminal sterilization should be utilized when the product and container/closure system are able to withstand the terminal sterilization process.1
Terminal sterilization is less complex, less costly, and more easily reproducible than aseptic processing. It is the preferred method for sterilizing drug products because sterilization takes place after formulation, and once the product has been filled into the primary packaging. As a result, these initial manufacturing processes can occur in a less rigidly structured environment, which lowers the complexity and accelerates the process, thereby positively impacting the cost of manufacturing. It also limits opportunities for contamination due to human intervention. The process is reliable, repeatable, and delivers a quality product.
The sterility assurance level (SAL) also plays a critical role in method selection. The SAL describes the probability that a viable unit or colony-forming unit (CFU) survives sterilization. If a product is terminally sterilized, it has a SAL of 10-6 (1 in 1,000,000 chance of a CFU surviving the sterilization process), while an aseptically processed product has a higher risk SAL of 10-3 (1 in 1,000 chance of a CFU surviving the sterilization process).
Because aseptic processing cannot provide the same quantitative level of sterility assurance as terminal sterilization, it should only be used when terminal sterilization is not an option.
SCIENTIFIC PAPER ― Get more information on different sterilization methods of pharmaceutical products, the validation steps, and how to reduce time and costs.
Do you need help sterilizing your drug product?
Send us a message.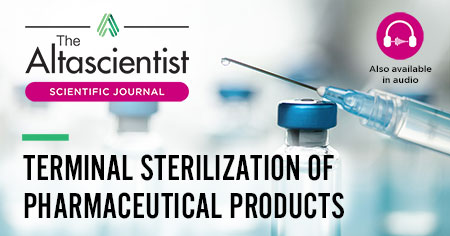 Explore All our Manufacturing and Analytical Solutions.