CEO's Corner
With each business quarter comes an opportunity for our CEO to reflect on the past, the present, and the future of Altasciences. Read Chris' special message to you below.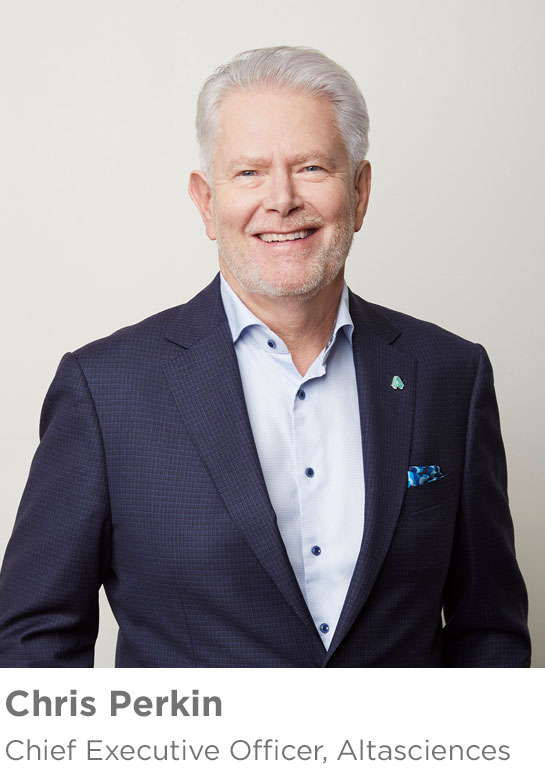 December 2021
Here we are… our last issue of the year — and what a year it has been! There is always so much happening at Altasciences, and 2021 is certainly no exception.
In 2021, we broadened our coast-to-coast, integrated offering, adding a clinical site in Los Angeles and a preclinical site in Scranton. We also worked hard on the second expansion of our lab in Laval and our CDMO facilities in Philadelphia, and deployed new equipment and software throughout the organization. The goal? Making early phase drug development easier and seamless, for you.
Every organization, no matter the industry, has faced new challenges in the past two years, and I'm so proud of our team. They've demonstrated their ability to overcome anything (and I mean ANYTHING). Their solid work ethic, scientific knowledge, team spirit, innovative thinking, and dedication to making an impact have allowed us to go further, meet and exceed your expectations, and to achieve success.
Now, Altasciences' next chapter is being written. I will have some exciting news to share with you very soon, but that will have to wait until the New Year. But I can tell you this…  When we partner together to build a healthier world, there's nothing that can stop us. 
Happy Holidays and stay well, 

Imagine partnering with an integrated team you can trust, and telling your story once.

Watch this video to discover Proactive Drug Development with Altasciences.

In this Quick Chat, I get candid about Altasciences' leadership style, culture, and organizational structure.

In this interview, I discuss Altasciences' one operational structure, and how it addresses a major challenge within the drug development industry.