CEO's Corner
With each business quarter comes an opportunity for our CEO to reflect on the past, the present, and the future of Altasciences. Read Chris' special message to you below.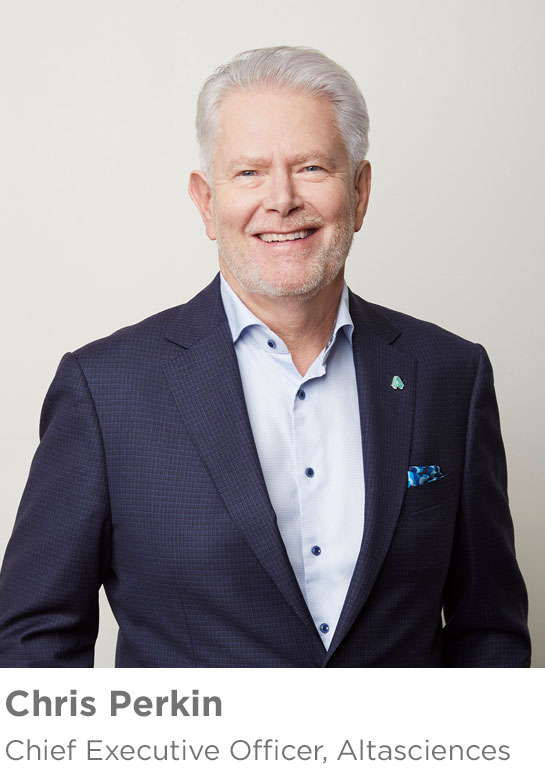 September 2022
It's hard to imagine that autumn is upon us here in Montreal, but alas! As always, it's been an exciting few months for us at Altasciences, from building expansions to software upgrades, to attending in-person industry events (we missed those in 2020-2021). Of course, we continued to support all of your innovative drug development projects, from lead candidate selection to proof of concept, and beyond.
Alongside our long-standing partner Alladapt Immunotherapeutics, Inc., we celebrated the groundbreaking of our latest CDMO expansion: a dedicated, 53,000 sq. ft., state-of-the-art building to meet Alladapt's Phase III and commercial requirements. We are also expanding our preclinical site in Scranton, as well as the lab space in our preclinical site in Columbia—which you'll hear more about very soon.
Early phase drug development has been an exciting place to be for a long time… I think back to when I first began my career in 1975 at a preclinical CRO in England, at the tail end of the wave from the 1950s to the 1970s that saw the discoveries of new antibiotics that are commonly used today. It reminds me that each new idea, discovery, trial, or success story from a sponsor, no matter how big or small, makes an impact—it's another step forward. As a drug development partner, we are the critical link between research, the clinic, and commercial availability. How many lives have we extended or saved with the drugs we have worked on, either advancing them to the next stage or preventing unexpected adverse effects from causing harm?
I'm entering this next season with an assignment for us all: take those moments to celebrate each milestone, and to never lose sight of the difference we are making in the world.
I can't wait to see what we do next, together.
Onwards and stay well,

Imagine partnering with an integrated team you can trust, and telling your story once.

Watch this video to discover Proactive Drug Development with Altasciences.

In this Quick Chat, I get candid about Altasciences' leadership style, culture, and organizational structure.

In this interview, I discuss Altasciences' one operational structure, and how it addresses a major challenge within the drug development industry.