CEO's Corner
With each business quarter comes an opportunity for our CEO to reflect on the past, the present, and the future of Altasciences. Read Chris' special message to you below.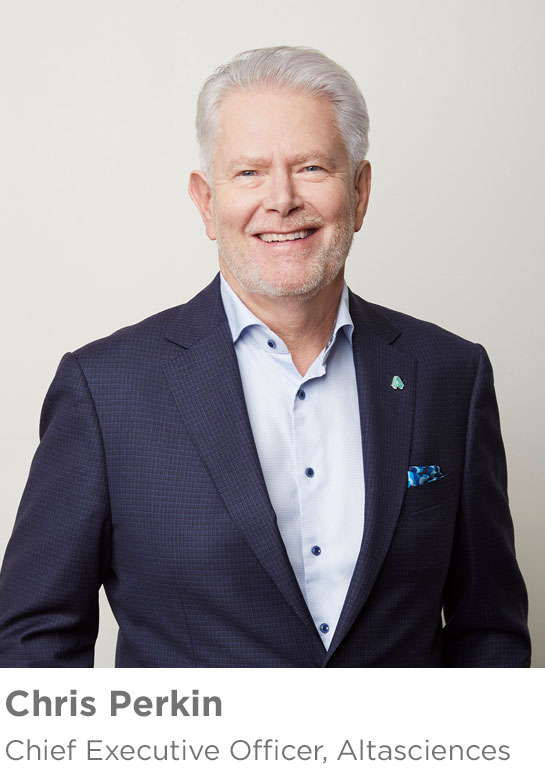 March 2023
Spring… the season for fresh perspectives, new endeavors, and exciting change. In fact, it was in the spring of 2010 that I joined Altasciences (then Algorithme Pharma) and never looked back! 
Coincidently (or not?), it was also in the spring of 2013 that we added the clinical research site in Kansas to our Altasciences family and expanded our capabilities in complex studies.
In the spring of 2019, we launched our new brand identity and web site to really show who we are—one company moving in unison to provide big impact with a personal touch.
In the spring of 2020, we welcomed our colleagues in Philadelphia, and added the exciting world of manufacturing and analytical services to our early phase drug development solution.
In the spring of 2021, we welcomed new colleagues in Los Angeles, adding scale to our Phase I footprint and expertise in ethnobridging studies and other specialty areas for hard-to-recruit study populations. We also welcomed our Scranton site to increase our small molecule expertise as well as add efficacy pharmacology, ophthalmology, and carcinogenicity study capabilities, to our preclinical offering.
Early last spring, we added Columbia to our preclinical family, which added both additional space and new capabilities.
We're not adding to our family this spring, but we're using every addition from those previous springs to further disrupt and transform the outsourcing model. With every new study we take on, we step forward into growth. With every new drug we help develop, we continue to change the paradigm.
With every new milestone we achieve, we continue to improve lives. And it's all worth celebrating, because life in precious.
Cheers, and stay well.

Imagine partnering with an integrated team you can trust, and telling your story once.

Watch this video to discover Proactive Drug Development with Altasciences.

In this Quick Chat, I get candid about Altasciences' leadership style, culture, and organizational structure.

In this interview, I discuss Altasciences' one operational structure, and how it addresses a major challenge within the drug development industry.