CEO's Corner
With each business quarter comes an opportunity for our CEO to reflect on the past, the present, and the future of Altasciences. Read Chris' special message to you below.
September 2023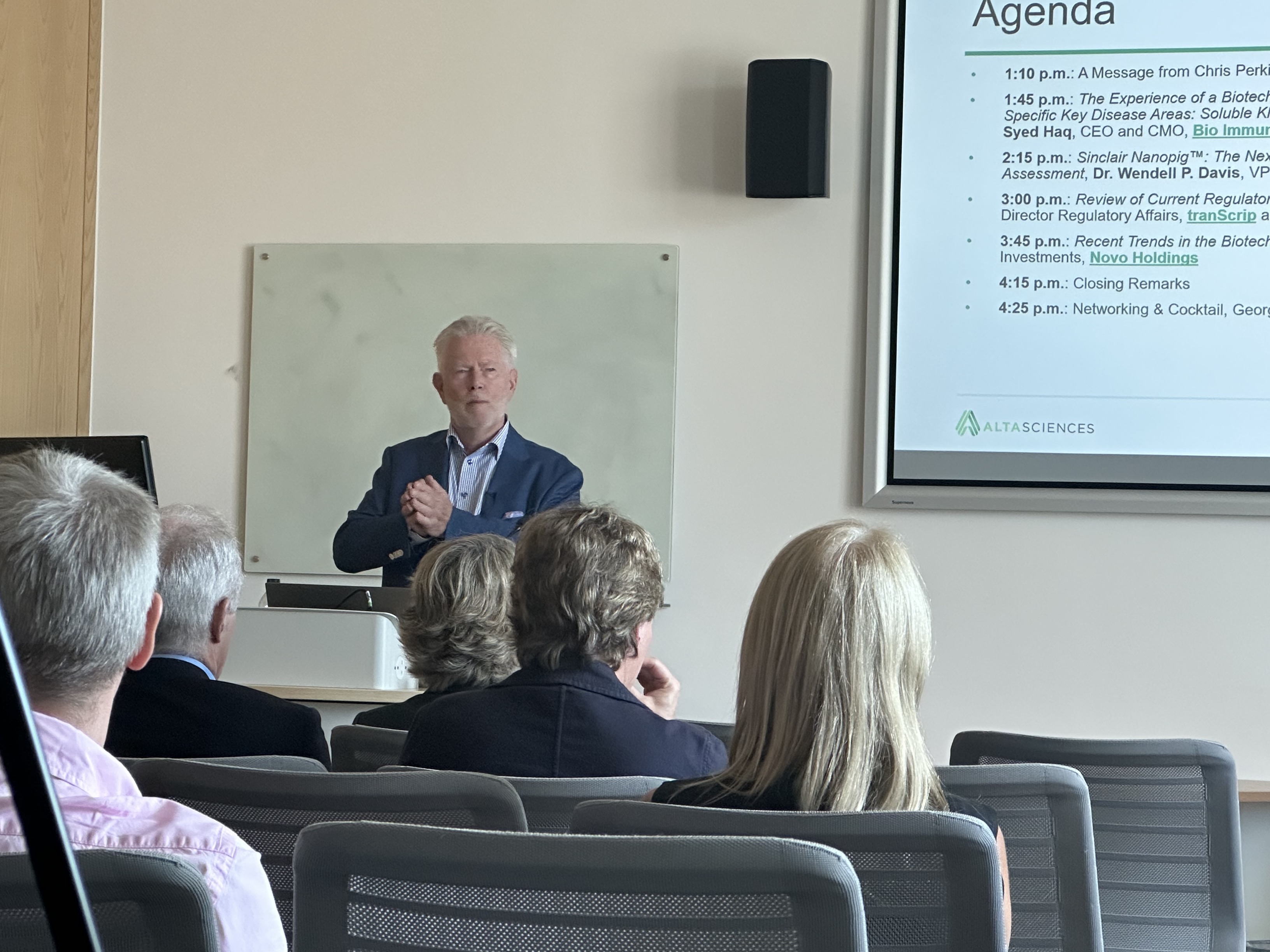 It's been an exciting and busy few months for us at Altasciences. While continuing to support all your innovative drug development projects, we've added a few new accolades to our name, including being named Top Integrated CRO 2023 by Life Sciences Review and receiving a 2023 CRO Leadership Award. To be recognized by the industry is not only an honor but a testament to the expertise of our people and the utmost care they show for both our partners and for those who seek the therapies we help develop. Also this quarter, we've joined industry experts at conferences around the world, always learning and contributing to the world of drug development. And, to that end, we invited experts to join us in our first-ever symposium in the UK. 
Hosted at the Babraham Research Campus in Cambridge, England, our symposium featured a lineup of diversified speakers. Professor Syed Haq from UK start-up, Bio Immunitas, was invited to discuss recombinant protein drugs for anti-aging, anti-viral, and anti-inflammatory indications. We teamed our own regulatory expert, Paul Sidney, with UK-based regulatory expert Leslie Dowling of tranScrip to give a joint presentation to compare the regulatory guidelines of North America and Europe. Our Vice President of Pathology, Dr. Wendell Davis, spoke about the Sinclair Nanopig™ as a non-rodent model in safety assessment―a hot topic in Europe (and increasingly in North America) as companies are looking to move away from reliance on dogs as a research model. Dr. Max Klement of Novo Holdings also joined us to talk about recent trends in biotech funding. And I had the privilege of sharing Altasciences' story from beginning to end. Our moderator for the day was none other than Dr. Hazel Clay, who is our Drug Development Advisor based in the UK. The symposium was as illuminating as it was enjoyable, and we look forward to hosting more of them around the world.
It's hard to imagine that autumn is upon us, but here we are! And we've more to do before we reach the end of 2023.
I can't wait to see what we do next, together.

Imagine partnering with an integrated team you can trust, and telling your story once.

Watch this video to discover Proactive Drug Development with Altasciences.

In this Quick Chat, I get candid about Altasciences' leadership style, culture, and organizational structure.

In this interview, I discuss Altasciences' one operational structure, and how it addresses a major challenge within the drug development industry.