CEO's Corner
With each business quarter comes an opportunity for our CEO to reflect on the past, the present, and the future of Altasciences. Read Chris' special message to you below.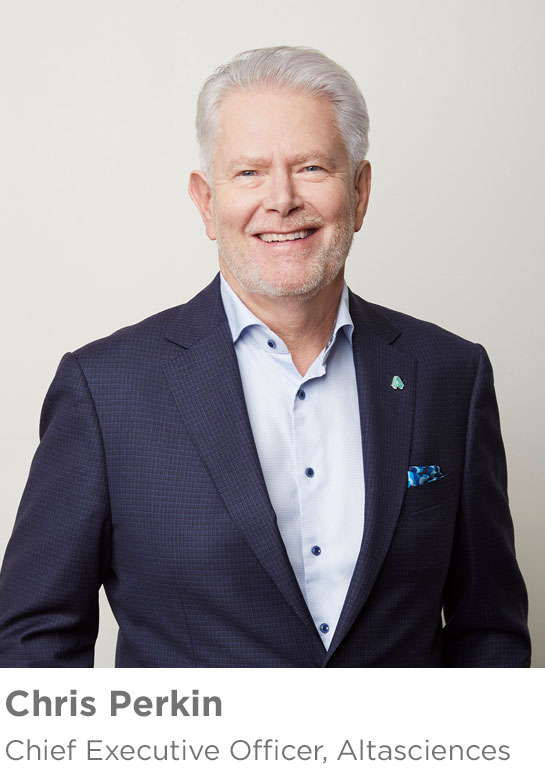 June 2022
This year, Altasciences was deemed a winner in all five categories as part of the CRO Leadership Awards: Capabilities, Compatibility, Expertise, Quality, and Reliability.
To be recognized in the industry is a testament to the talent of our experts, who we like to call Altascientists, as well as the utmost care they show for you, your projects, and for those who seek the therapies we help you develop. They are the reason we are able to not only reach, but exceed industry standards and your expectations.
But, of course, none of this would be possible without you, our clients. Each time we partner together, we push the boundaries of scientific research — we innovate, we learn, we grow, we dream of what's next. Together, we get better drugs to the people who need them, faster.
As you know, we've been busy at Altasciences building on our solutions and facilities, with multiple expansion and renovation projects, as well as acquisitions. All this is continuing in 2022, and I'm excited to share the next big news with you, but can't reveal just yet.
As a community of thinkers and scientists, we are proud to continuously learn and reach new heights. We are called Altasciences after all (emphasis on the Alta).
Stay well, 

Imagine partnering with an integrated team you can trust, and telling your story once.

Watch this video to discover Proactive Drug Development with Altasciences.

In this Quick Chat, I get candid about Altasciences' leadership style, culture, and organizational structure.

In this interview, I discuss Altasciences' one operational structure, and how it addresses a major challenge within the drug development industry.