Three Key Advantages of Conducting Early Phase Clinical Trials in North America: An Overview of the Webinar "A Hop Across the Pond"
Regulatory processes can be challenging, and potential solutions can be found in broadening your focus to include clinical sites in the U.S. and Canada for your drug development strategy. With an understanding of how regulatory agencies and market environments may differ, you will be in a better position to optimize your program. In Altasciences' on-demand webinar, A Hop Across the Pond, Ingrid Holmes, Vice President of Global Clinical Operations, and Dr. Beatrice Setnik, PhD, Chief Scientific Officer, shared information about conducting early phase clinical trials in North America.
Let's take a look at three of the key advantages presented:
1. Accelerate Your Timelines by Choosing the Best Regulatory Pathway for Your Goals
While there are many similarities between U.S., Canadian, and EU rules, there are also differences that can be leveraged to achieve optimal strategic benefit and time savings, as summarized in Figure 1 below. An advantage to the EMA filing system is that a single regulatory approval will result in marketing access to all EU countries. However, the process can be longer than in the U.S. or Canada. Similarly, gaining FDA approval is advantageous given the size of the U.S. market, but delays are more likely than in Canada.
An example of shorter timelines in North America can be seen right here at Altasciences. With 20 to 30% of Clinical Trial Applications (CTAs) submitted to in the Phase I category coming from Altasciences, we have nurtured a strong relationship with Health Canada. As a result, we have achieved successful CTA submission rate of 99%, along with a 23- to 26-day turnaround for our clients. We also have experience at obtaining FDA fast-track designations.
When clear drug development goals are in place, an understanding of each agency's regulatory process will increase your odds of advancing your molecule through to market authorization, on time.
Figure 1. A summary of differences between regulatory agencies in the U.S., Europe, and Canada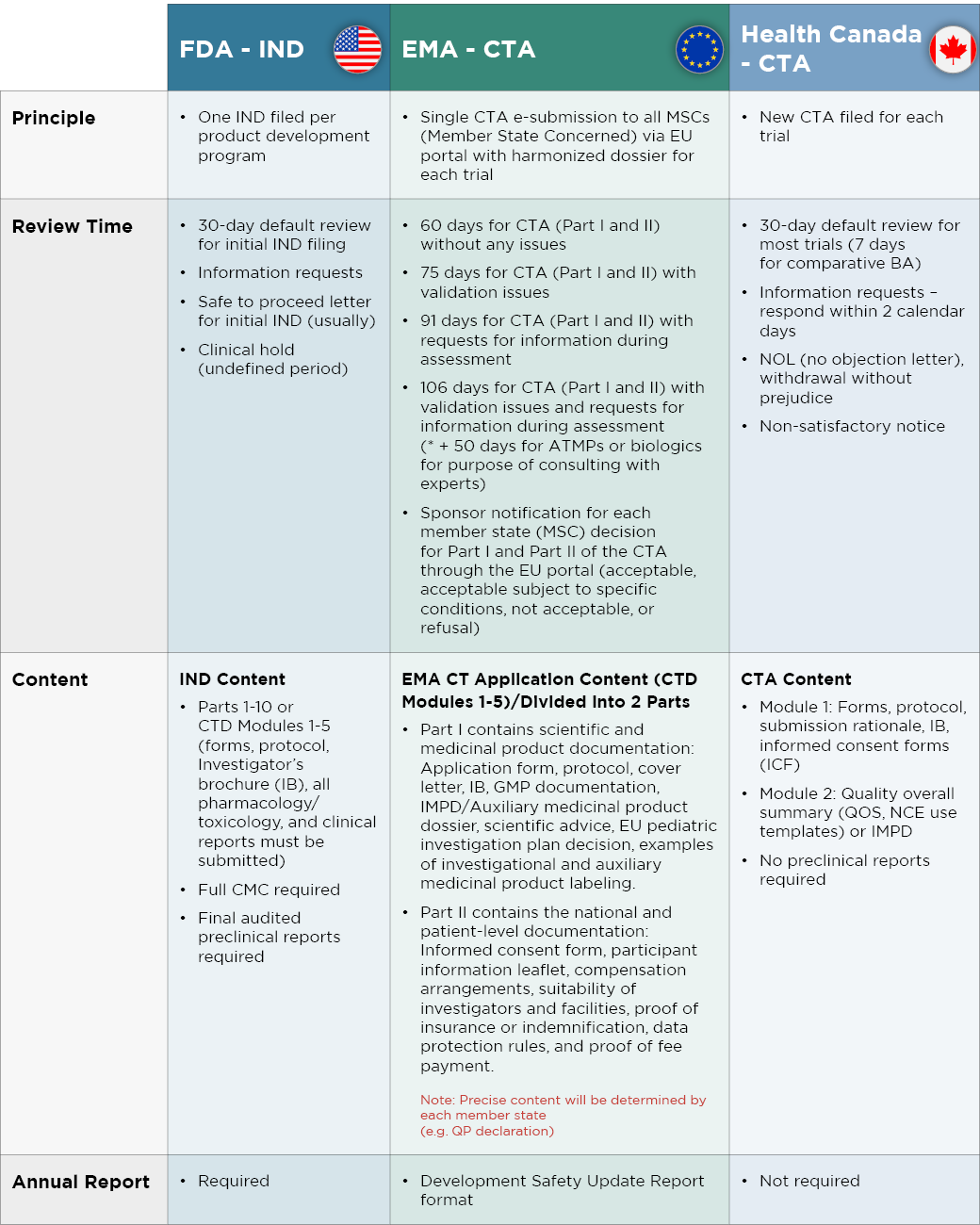 2. Accelerate Your Timelines by Combining Regulatory Processes
Drug development programs can be accelerated by choosing North American locations for your clinical trials. Proactively filing for marketing authorization in Canada can help get a head start with obtaining the top-line data needed to advance your EMA CTA or IND filing, or to prepare for your initial FDA meeting. In addition, pursuing a Canadian CTA can be a good strategy when experiencing delays with the IND filing process in the U.S. The data obtained can readily be used for IND filing once the U.S. is able to expedite the process.
With an understanding of the differences and similarities between regulatory agencies, you no longer have to choose between them. Instead, you can smoothly navigate all three by coordinating approval processes to optimize your drug development timelines.
For European sponsors: If you are experiencing delays with the EMA, you can advance your timelines by filing with the FDA or Health Canada and continuing your studies in North America. Hitting the milestone of filing with the FDA and getting early feedback from them can be particularly useful in strengthening your EMA application and planning your next moves. If you encounter scheduling challenges around the longer timelines with the EMA, or if your development is on hold, partnering with sites in North America can help you save time and get your studies back on track.
For American sponsors: You can get a head start by partnering with a Canadian CRO/CDMO in the event that your program gets placed on hold by the FDA during your 30-day default review. The process in Canada is generally faster, with fewer delays in your initial CTA filing and quick responses to information requests from Health Canada.
For Canadian sponsors: Looking to the U.S. in addition to Canada gives you more options. If you are facing challenges in obtaining a CTA, having the option of continuing your studies in the U.S. can keep your project moving forward. Canadian sponsors may also face the same pressures as those in Europe to open an IND; filing in the U.S. and getting early feedback from the FDA can also help to advance your program. An additional advantage may be the ability to include a head-to-head comparison with an already-approved U.S. drug in your study design.
With a broad, global regulatory strategy, you have more options to keep your program moving forward when there are delays.
3. Increase Your Market Size and Study Participant Diversity
Conducting your studies in North America will allow you to file for market approval and gain access to the largest pharmaceutical market in the world. In 2020, North America represented 46% of global drug sales[i], while in 2018, the U.S. alone had a market share of over 40%[ii]. Large cities with strong research histories, world-class hospitals and specialists, as well as ethnically diverse populations that help provide you with the participant access you need for well-designed, smoothly operating early phase clinical trials.
The wide diversity and availability of study participants will enable you to design your studies to be more inclusive, as cost-effectively as possible.  For example, with clinical units in Montreal, Los Angeles, and Kansas, Altasciences has a database of over 400,000 ethnically diverse study participants, participant retention rates of over 95%, and collaborative relationships with a network of hospital and specialists for patient access. Convenient, strategically-placed locations through North America allow for easy communication and monitoring, travel proximity, and availability of live support in the same time zones. As such, we have been able to ensure rapid recruitment and study start-up times for our clients.
Hopping across the pond, or crossing the border, can increase your odds of achieving market authorization while accelerating your timelines and optimizing your drug development strategy. With North American sites participating in 43% of clinical trials, you can be confident in finding the right CRO/CDMO for your drug development program in the U.S. or Canada.
Our team at Altasciences has the therapeutic experience and expertise needed for a wide variety of studies. To learn more, watch the complete webinar or get in touch with one of our experts.