Up Close and Personal with Dr. Denise Milovan
Neuroscientist Dr. Denise Milovan joined Altasciences' Research Services team in 2020 to provide complementary research support for your clinical trials. She works closely with the teams in Business Development, Medical Affairs, Biostatistics, and Clinical Operations to provide science-driven guidance and to promote early adoption of cutting-edge methods to help sponsors reach their milestones.
MAKING A DIFFERENCE
Denise is passionate about promoting mental health and wants to ensure that everyone has access to the type of treatment interventions that will improve quality of life. She's made this her life's mission as both a practicing clinician and a research scientist. As the former, she completes neuropsychological assessments and provides evidence-based psychological interventions to patients diagnosed with neurological and/or psychiatric conditions. As the latter, she assists sponsors in bringing to market safe and effective pharmacological interventions by helping them understand the cognitive safety profile of their investigational products.
Denise's greatest accomplishment has been helping other professionals better identify subtle cognitive or psychological changes. With Canadian epileptologists, she has worked hand-in-glove to obtain accreditation for an Epilepsy Preceptorship. This program gives residents the opportunity to learn how to identify and diagnose epileptic seizures. Denise also helped to develop computerized neuro-cognitive tests adapted to the needs of Phase I clinical trials.
HANDS-ON EXPERIENCE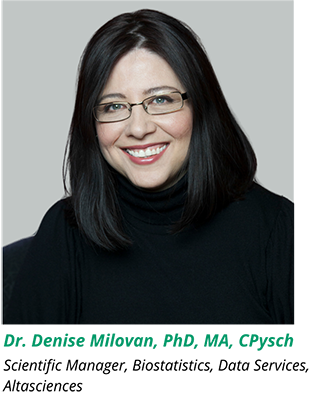 Denise specializes in the adaptation and refinement of traditional neurocognitive and behavioral measures for the detection of subtle drug effects in early phase clinical trials. With this data, she helps sponsors determine the need for additional neurocognitive evaluations during later phase trials. She also advises sponsors on study design and selection of tests sensitive to CNS-impairing or enhancing drug effects. In addition to her role at Altasciences, she continues to practice clinical neuropsychology in a variety of settings, including hospitals, non-profit organizations, and private practice.
Prior to joining Altasciences, Denise held roles at Syneos Health and Decision Line Clinical Research, where she provided scientific input and oversight of neurocognitive early phase programs dedicated to the assessment of the pharmacodynamic effects of CNS drugs. She holds a PhD and a master's degree in Clinical Neuropsychology, and has also completed the requirements of a Master of Clinical Pharmacology. As a member of the Council of the College of Psychologists of Ontario from 2015 to 2021, Dr. Milovan held various roles including that of Vice President.
GETTING TO KNOW DENISE OUTSIDE OF WORK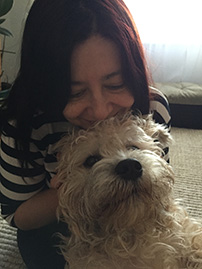 When she's not hard at work, Denise loves spending time with her Dandie Dinmont Terrier, Enki, reading fantasy books, and going to classic guitar concerts and Broadway shows. The aspiring detective in her is a bit addicted (pun intended) to crime investigation shows. As a self-proclaimed foody and nerd, she relishes modernist cuisine, assuring us she has the best recipes for mojito spherification and the best duck-confit using sous-vide – reach out to Denise to get a hold of the recipes!
A quote that makes Denise think:
"If something is true, no amount of wishful thinking will change it." — Richard Dawkins
Contact Denise Milovan here to discuss all things data.