Up Close and Personal with Dr. Simone Iwabe, DVM, PhD, DACVO
Meet Dr. Simone Iwabe, DVM, PhD, DACVO
Senior Veterinary Ophthalmologist
A board-certified veterinary ophthalmologist, Dr. Simone Iwabe, PhD, joined Altasciences in 2020. An expert in all thing's ophthalmology, Simone's specializations include gene therapy, retinal diseases, glaucoma, OCT, ERG, and ocular safety testing.
An Expert in Veterinary Ophthalmology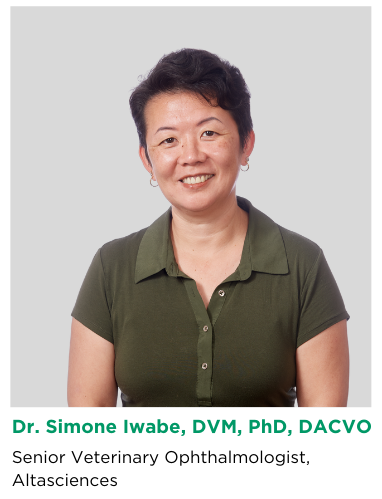 As part of Altasciences' preclinical team in Scranton, PA, Simone is responsible for conducting eye examinations on all research animal species. She also performs ocular surgeries and intravitreal and subretinal injections, and then follows up with fundus photography or imaging with Optical coherence tomography. As a Senior Veterinary Ophthalmologist, she trains the technicians on how to perform routine tasks, such as intraocular pressure measurements, pachymetry, and Draize scorings. One of Simone's favorite aspects about her role is engaging with new clients; she loves learning about their projects, and then showing sponsors how their new drugs, coupled with Altasciences' technology, approach, and expertise, can advance science.
A Passion for Animals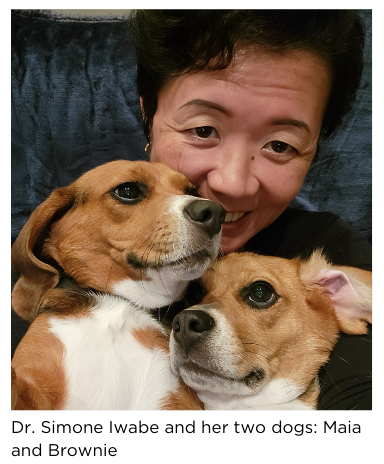 A love for animals is what inspired Simone to pursue a veterinary career. For Simone, there was no other option: "I never thought about any other profession because of this love of mine for animals." In fact, it's working, interacting, and connecting with the animals that make each work day, a great day for Simone. Choosing to become a Veterinary Ophthalmologist was a means to make the greatest impact while following her interests: "Being able to help animals and humans alike with their sense of sight is an amazing feeling!"
When she's not conducting eye examinations and surgeries for your preclinical projects, Simone is a dog mom to Maia and Brownie, who she lovingly calls her "four-legged babies". She also likes completing puzzles and giving her yard some TLC.
Following Her Dreams
When asked about her proudest achievements, Simone reflected on the sacrifices she and her family have made to make her academic and professional dreams a reality. On this journey, Simone left her home country of Brazil to earn a PhD in Mexico, before moving to the United States to become Board Certified by the American College of Veterinary Ophthalmologists. Although being away from her family is difficult, this journey taught her a valuable lesson: always follow your dreams. "There will be some obstacles, and sometimes things don't happen as you plan," Simone explains, "But I've always believed that everything happens for a reason and at the right moment, paving the way for your dreams to come true."
Contact Simone here to discuss your ophthalmology needs.