Five Reasons to Choose Canada for Your Clinical Trials—From the Webinar Demystifying the Conduct of Clinical Trials in Canada
Canadian research facilities are becoming a popular choice for American and European sponsors, carrying out hundreds of clinical trials each year. In Altasciences' webinar, Demystifying the Conduct of Clinical Trials in Canada, Dr. Beatrice Setnik, Chief Scientific Officer, and Paul Sidney, Vice President of GLP Quality Assurance, discuss some of the key advantages of conducting clinical trials in Canada. Let's review the five of these advantages.

1. 

Ease of Access to Canadian Clinical Trial Sites

Canada's close geographical proximity to the U.S.A. means easy access to trial sites for American sponsors. With time zones aligned, communications are smooth, and live support can easily be provided in real time. In addition, proximity translates into reduced time and costs.
2. 

High-Quality Clinical Trials

Canadian studies are conducted in accordance with International Conference on Harmonization (ICH) guidelines. Reviews and approvals are efficiently carried out by central institutional reviews boards (IRBs) in compliance with international regulatory agency requirements. A stellar reputation, earned from its successful track record, experience, and alignment with international standards, makes Canada a trusted partner for clinical trials.
3. 

Excellent Access to Study Participants

With its highly developed cosmopolitan society, Canada provides access to large populations from multiple cities. The Montréal metropolitan area, where Altasciences' clinical trial facilities are located, is currently home to well over four million people. An affordable transit system, extensive hospital network, and ethnically diverse population are additional advantages. Canada's universal healthcare ensures a high quality of participant health. In addition, clinical trial participants can enjoy access to medical care while studies are ongoing.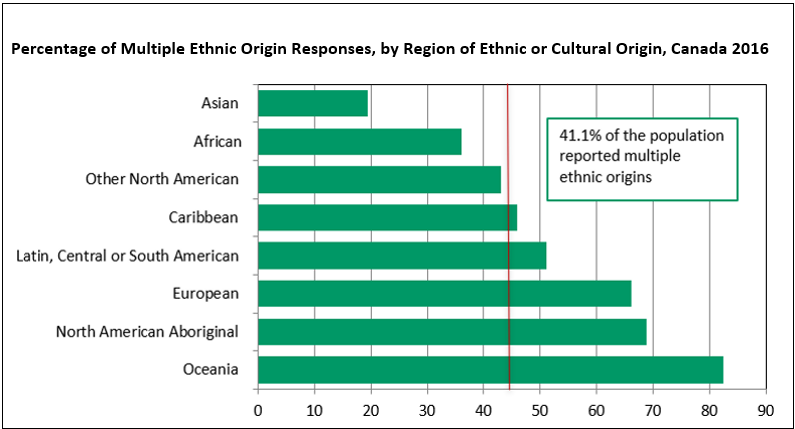 Source: Statistics Canada, Census of Population, 2016.
4. 

Accelerated Drug Development

Clinical trials can be conducted in Canada prior to filing an Investigational New Drug (IND) application with the U.S. Food and Drug Administration (FDA). The data collected are accepted by other international regulatory agencies, and can be used to support IND filing or Clinical Trial Application (CTA) submissions to the European Medical Agency (EMA). Extensive, readily available databases of trial participants mean rapid recruitment, so studies can begin quickly.

Health Canada's efficient process includes a 30-day review (or a seven-day administrative review for bioequivalence studies), with IRB reviews three times a week. While the FDA also has a 30-day review, any information requests from them result in issuing a clinical hold. This may significantly lengthen the process. Health Canada, on the other hand, responds to information requests within the 30-day formal review period. As a result, the timeline for Canadian CTA approval is generally shorter than for an IND. Study start-up reviews are conducted in parallel with ethics reviews for additional time savings.

5. 

Conducting Clinical Trials in Canada in Support of FDA and EMA Submissions

Initiating safety and proof of concept studies in Canada has the advantage of a quick start without the substantial investment of filing an IND. This means faster time to market, flexibility, and lower costs without compromising quality or ethics. Canadian study output meets FDA, EMA, and other international regulatory standards, making them appropriate in support of international regulatory applications, including IND and European CTA submissions.

Health Canada reviews and comments on the study design, endpoints, and participant safety. This gives you a good idea of regulatory authorities' expectations, which can help with FDA and EMA submissions. Studies are acceptable to the U.S. FDA in support of New Drug Application (NDA), 505(b)(2), or Abbreviated New Drug Application (ANDA) regulatory pathway. In fact, most studies conducted in Canada are in support of NDA and ANDA submissions.
A Deeper Dive Into the Canadian Regulatory Landscape 
If your clinical trials are being conducted for submission to a regulatory agency outside of Canada, Health Canada does not need to review the clinical study report (CSR). Canadian CTA requirements are lighter than for an IND. Here is a comparison: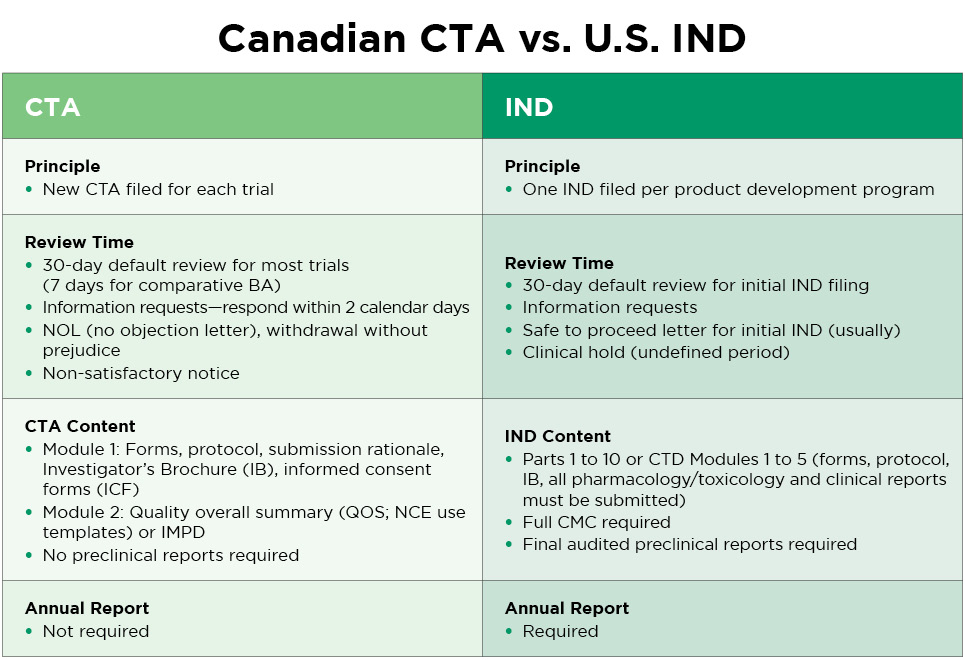 How Altasciences Can Help
Altasciences' 265-bed clinical site located in Montréal is in the Eastern Standard Time (EST) zone, and is easily accessible to the U.S. and other international centers. Altasciences updates Health Canada with any changes, and informs them of the end of the trial. You do not need to find a representative on your own; we take care of all the details on your behalf. Altasciences has established contacts within Health Canada, significant expertise in handling the entire CTA process, and extensive experience in supporting international submissions.
To learn more about how we can guide you through the Canadian clinical trial process and help you achieve savings in time and cost, watch the webinar or contact us today.