CASE STUDY: Successfully Scaling Up a Drug Nanosuspension for Clinical Trials
Altasciences has the unique expertise and experience to successfully scale up R&D formulations for clinical manufacturing.
In this case study, you'll learn how we optimized the milling conditions for the manufacturing process of a nanosuspended dosage form to ensure a sufficient quantity of product to support our client's Phase III clinical trials.
Find out how we did it!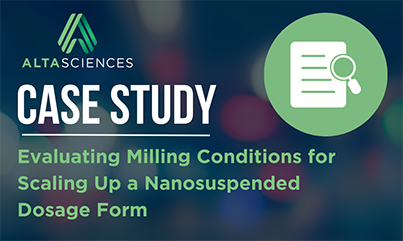 Have a drug product that requires formulation and manufacturing for your nonclinical and clinical trials?
Contact us to get started.
You may also be interested in the following:
Webpage: Contract Manufacturing and Analytical Solutions
Scientific Journal: Nanomilling for Better Solubility and Improved Bioavailability
Webinar: The Development of Nanosuspension Formulations for Poorly Soluble Drugs
Altasciences transforms the traditional outsourcing paradigm by simplifying and streamlining drug development solutions, whether for a single study or multiple programs, to offer an integrated/synchronized approach to CRO and CDMO services from lead candidate selection to clinical proof of concept, and beyond.