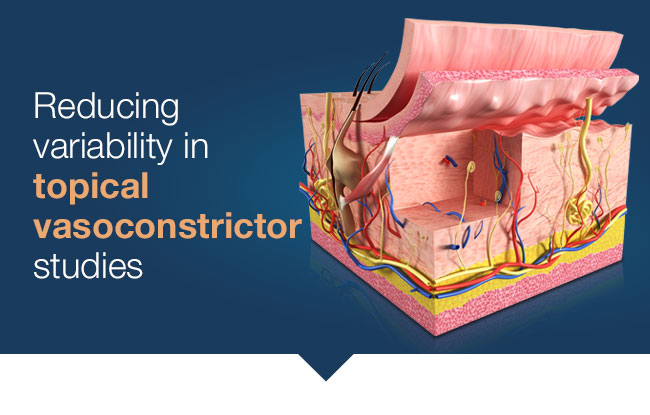 Altasciences has conducted more than 27 topical vasoconstrictor studies with over 1,200 participants. As a trusted partner, you can depend on our knowledge and experience in scientific research for topical corticosteroids to help you accurately analyze the efficacy of your products.
Altasciences offers:
Clinic locations in the U.S.A. and Canada to serve an international client base
Studies that meet regulatory requirements for North America, Europe and several other countries
Research designed to ensure consistency in application and accuracy of readings, to bring you reliable data, fast
Studies and techniques piloted to clearly delineate operator and study challenges, and assure process efficiencies
Robust database of over 225,000 participants with excellent retention rates, allowing for speedy recruitment
Accurate readings with specially calibrated pipettes and highly sensitive chromameters
Data management and medical writing according to your specific needs
Demonstrated Expertise
More than 27 topical vasoconstrictor studies conducted with over 1,200 participants
Rigorous study protocols, protected application sites, highly qualified staff, to deliver clean and reliable data
Experienced operators with reproducible techniques participate in formalized training programs developed with industry experts
Data Management
Team with over 20 years' experience
CDISC standards fully integrated into workflow
Database lock typically 2 to 4 weeks after last subject visit
Altasciences continuously strives to be at the forefront of research on topical products and we tailor our studies to meet your unique set of requirements.
Speak to us today to discuss your upcoming needs, and get your study up and running!