eBook – Monitoring Key Biomarkers of Immunomodulation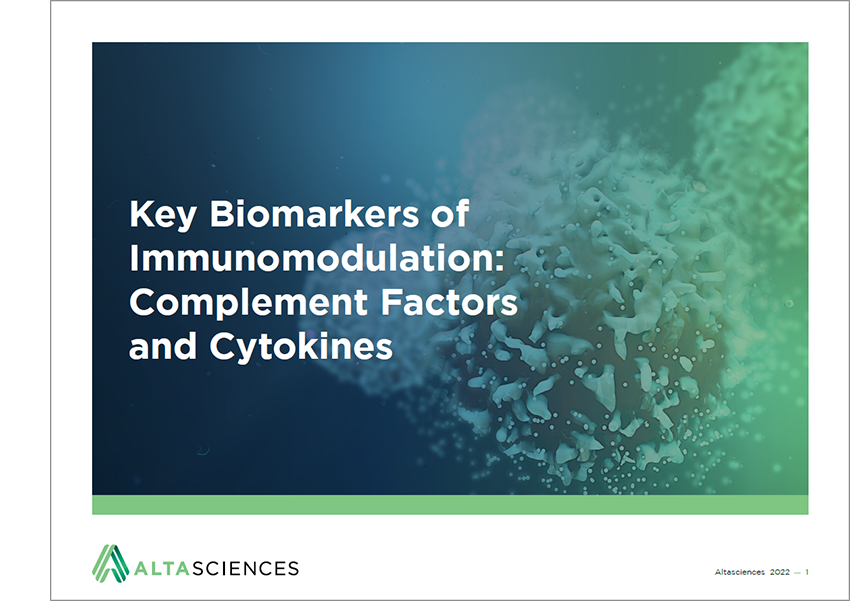 Altasciences has published a new eBook sharing comprehensive information about testing biomarkers of immunomodulation as part of your drug development program.
With the movement toward personalized treatments having immunomodulatory effects, monitoring complement factors and cytokines has become increasingly important to help prevent any unintended consequences that may arise from these new medications.
Contents include:
REVIEW: Complement Factors and Cytokines
SOLUTIONS: Biomarker Analysis
CASE STUDY: Comparing Cytokine Data to In-Life Parameters on Nonhuman Primates in Nonclinical Toxicology Studies
STUDY OUTLINE TEMPLATE: Nonclinical Study
Altasciences has been delivering excellence in bioanalytical services for over 25 years, and is fully equipped to analyze a comprehensive range of biomarkers to support your nonclinical toxicology programs. With over 260 scientists working in state-of-the-art laboratories and shifts running 24/7, as needed, our laboratory teams are able to process as many as 60,000 samples per month.
You may also be interested in the following:
Altasciences transforms the traditional outsourcing paradigm by simplifying and streamlining drug development solutions, whether for a single study or multiple programs, to offer an integrated/synchronized approach to CRO and CDMO services from lead candidate selection to clinical proof of concept, and beyond.​​​​