How Novel Data-Driven Treatments Are Improving Patient Care
PODCAST — How Novel Data-Driven Treatments Are Improving Patient Care
Special guest Dr. Michael Winlo, Managing Director at Emyria, joins us for a very insightful conversation about their unique programs and new patient care models. Emyria is a biotech company that brings together patients, clinicians, researchers, and medical innovators to develop data-driven, novel treatments for patients in need, including cannibidiol formulations.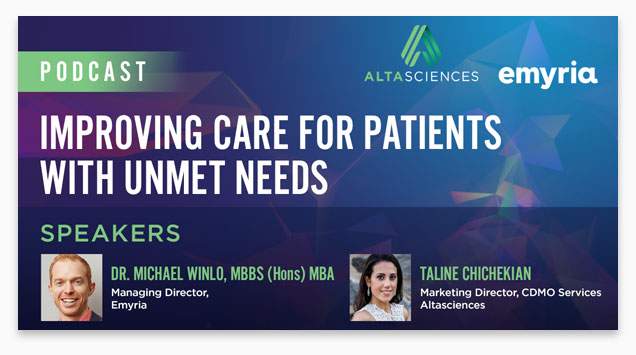 Have questions? Speak with one of our experts.

Altasciences transforms the traditional outsourcing paradigm by simplifying and streamlining drug development solutions, whether for a single study or multiple programs, to offer an integrated/synchronized approach to CRO and CDMO services from lead candidate selection to clinical proof of concept, and beyond.