Nanomilling ― For Better Solubility and Improved Bioavailability
40% of marketed drugs and 90% of active pharmaceutical ingredients (APIs) are poorly water-soluble, BCS Class II or IV. Nanomilling is a proven technique that can overcome solubility challenges and ensure your molecules are developed successfully into life-saving therapies.

In our latest ​​​​​​ issue of The Altascientist, learn about:
Solubility classifications (consult the checklist to see if your API qualifies)
How nanomilling works
The advantages of nanomilling
Maximizing formulations
A case study
Download your copy today, or listen to the audio recording.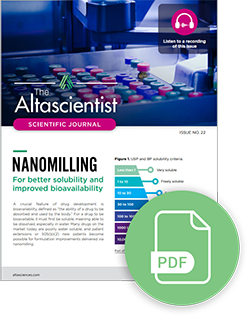 Questions? Speak with our experts.