Miniature Swine: Changing the Bias for Nonclinical Studies on Small Molecules and Biologics
Miniature swine have been widely used for research studies since the 1960s—most commonly within the scope of dermal testing due to similarities of their integument to humans. Pig skin is anatomically, physiologically, biochemically, and immunologically analogous to human skin, including its relatively thick epidermis, distinct rete pegs, dermal papillae, and dense elastic fibers in the dermis.  

As such, the species offers significant advantages in dermal testing and wound-healing due to a proven track record of predicting treatment modalities in humans better than most alternatives. 
Addressing the Bias of Using Minipigs
As with all studies, the most appropriate animal model is dependent on the needs of those projects. However, outside of dermal testing, an unusual paradigm has developed over the years in which many biopharmaceutical companies have overlooked incorporating miniature swine into their selection process altogether—seemingly due solely to the historical preference of other NHPs. 

Previously, one obstacle has been the size of the subject, which, despite the term "minipig" can still grow substantially—typically weighing between 35 to 45 kg at maturity. But that has now changed as U.S.-based breeder of research swine, Sinclair Bio Resources, recently developed a downsized minipig called the Sinclair Nanopig™, that is not only similar in size to a beagle (approximately 10 to 12 kg at maturity), but is also level in terms of cost.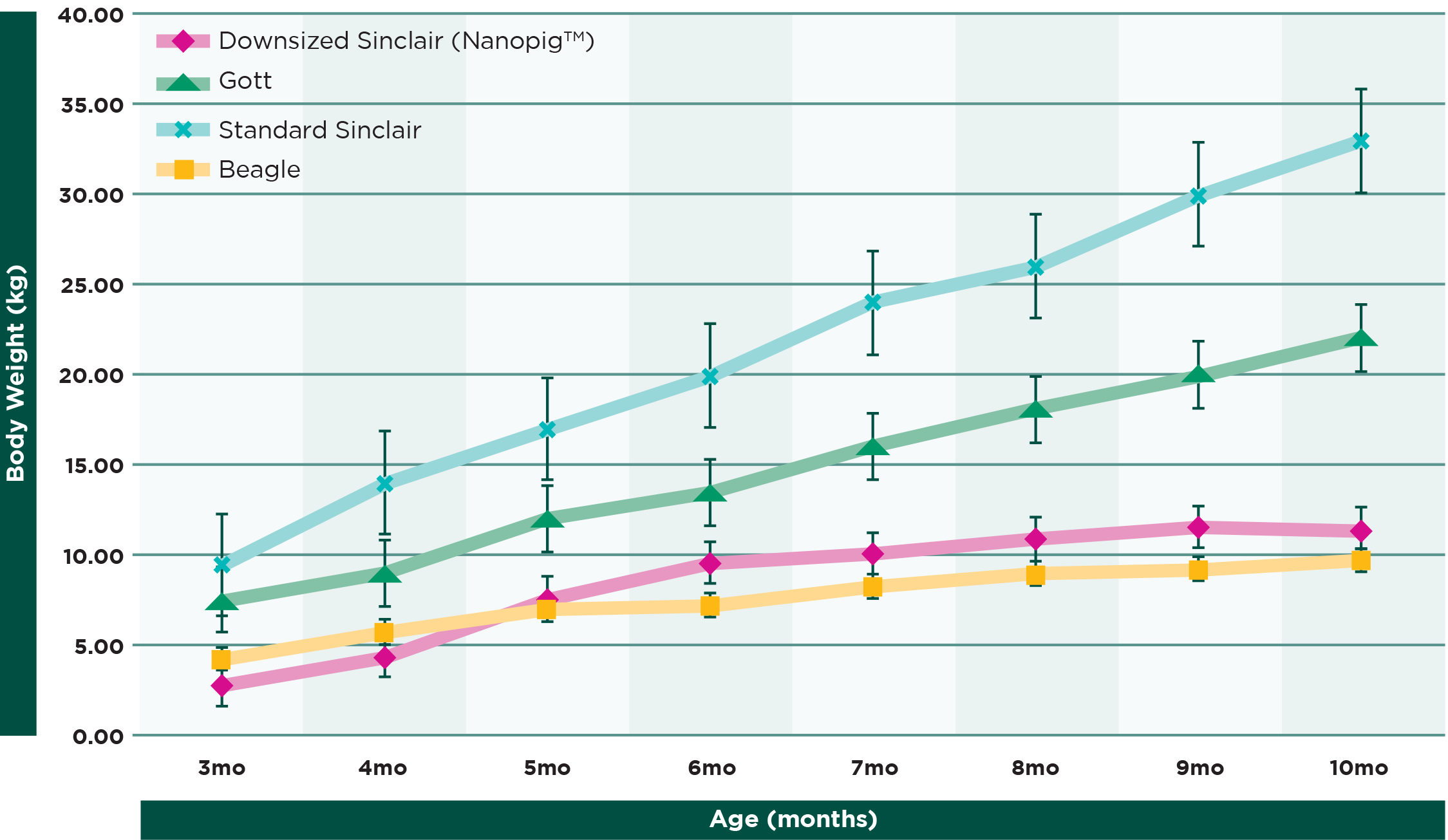 Miniature Swine as a Viable Option for Nonclinical Safety Studies
In a publication for the 12th annual miniature swine research forum, delegates from the forum stated, "There are no regulatory hurdles for using miniature swine, as the use is accepted by regulatory authorities all over the world, including Japan, Korea, China, India, the EU, and the U.S. Nobody had experience with, nor knowledge of, any instances where the miniature swine had not been accepted by regulatory agencies". 

Oftentimes, there is no default assigned to the species selection and, the testing model for each early toxicology study's program for small molecules is determined by examining a number of factors. In the case of UK-based pharmaceutical company GSK, each molecule is scientifically investigated, measured, and documented against these factors, and NHPs are only used if and when the swine or beagle do not meet the necessary requirements1. 

For small molecule programs, the primary driver for non-rodent selection is metabolism and absorption—the two main components of which are cytochromes and transporters—and have been both found to have 70% similarity between swine and humans. Outside of the liver, the gastrointestinal tract has the most metabolic activity, and again, the physiology of the miniature swine is remarkably similar to that of a human, when considering the pH of the stomach, salivary amylase, and rate of gastric emptying to name a few.

Additionally, our understanding of the binding affinity of miniature swine Fc gamma receptors to human immunoglobulins is increasing—especially as it becomes an integral part of the decision-making process when determining the most appropriate non-rodent species for human-relevant toxicity studies with a particular molecule.  
 
Other Variables to Consider When Choosing Minipigs for Nonclinical Studies 
The number of reasons that make minipigs such as the Sinclair™ and the Göttingen™ (the most widely-used breed of miniature swine since the '90s) a viable option is vast, and many are detailed in Issue 32 of The Altascientist, which not only highlights more examples, but provides real-world case studies to further demonstrate the advantages in miniature swine as an efficient model. 
In this video, Scott Boley, Senior Scientific Advisor at Altasciences, explains the benefits of considering the minipig, such as:
large blood volume
docile species
low cost
U.S. FDA-recommended
minimal zoonoses
fast reproductive cycle
rapid sexual maturity
readily available stock
all routes of administration
While the use of the minipig for studies is still very much behind the curve in comparison to other non-rodent species, there has been a slow but gradual increase as more and more biopharmaceutical companies look to these underused test subjects each year. With greater characterization of the model, and databases for historic control growing, miniature swine is in the perfect position to replace standard non-rodent species in many development programs. 
 
Experts in Miniature Swine
Having conducted 303 studies with miniature swine, the team of scientists and veterinary surgeons at Altasciences' Columbia facility have extensive knowledge and experience in GLP and non-GLP studies, with small molecules and biologics, using a range of miniature swine breeds. With the facility housing one of the largest miniature swine populations in the U.S., available breeds such as the Hanford™, Göttingen™, Sinclair Nanopig™, and the Yucatan™ are often used in a wide variety of studies, including inflammation, oncology, CNS disorders, HIV, and dermal. 
Visit the solutions section of the Altasciences website to learn more about miniature swine solutions and available dosing routes.