The Real Reason Why Sponsors Choose Liquid-Filled Capsules Over Tablets in Drug Development
Applications Of Liquid-Filled Hard‑Shell Capsules In Drug Development
Often selected for drugs with poor solubility/bioavailability, liquid-filled hard-shell capsules (LFHCs) have various applications and specific benefits over other solid oral dosage forms in different phases of pharmaceutical development.

In this issue of The Altascientist, you will find:
Applications of LFHCs
Advantages of LFHCs over other solid oral dosage forms
The process for developing an LFHC formulation
The role of excipients
CASE STUDY: The Rapid Development of an LFHC Formulation of Cannabidiol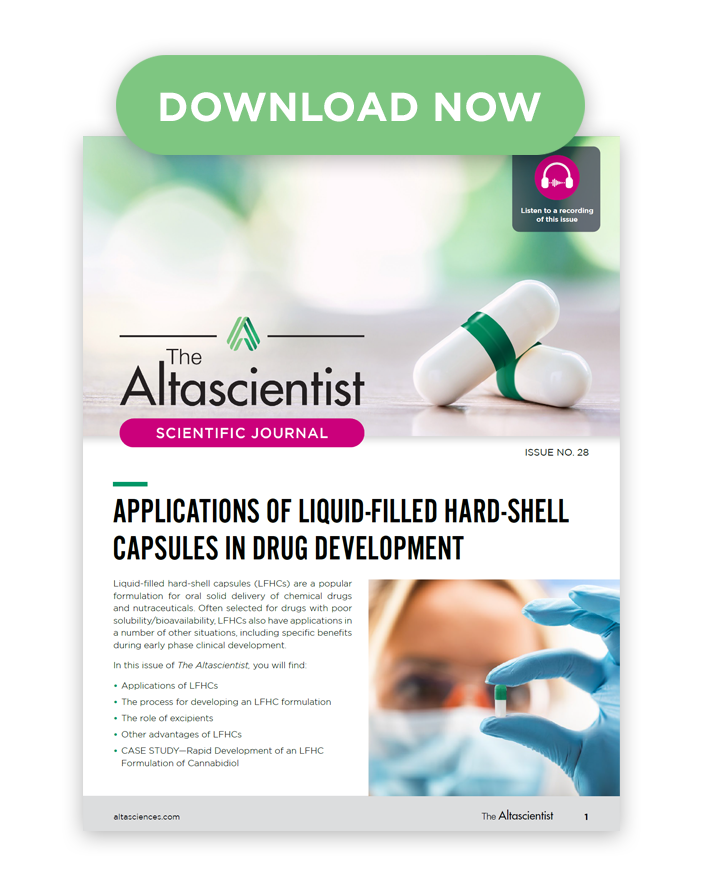 Contact us to optimize your drug development by using liquid-filled capsules.

Got a few more minutes? Check these out.

Altasciences transforms the traditional outsourcing paradigm by simplifying and streamlining drug development solutions, whether for a single study or multiple programs, to offer an integrated/synchronized approach to CRO and CDMO services from lead candidate selection to clinical proof of concept, and beyond.