Real-World Insights from Biopharma Exec Survey — Selecting the Right CRO
One-Stop Solution for Meeting Your Needs in Outsourcing Drug Development
Altasciences recently conducted a survey to understand the challenges biopharmaceutical companies face when outsourcing their early phase drug development programs. Over 143 executives shared the important factors that guide them in the selection of a CRO partner.
Their candid testimonials are shared in this playbook, including:
The significant challenges encountered when conducting preclinical and Phase I studies
The unique difficulties of transitioning from preclinical to first-in-human studies
The specific capabilities and expertise executives look for in their CRO partners
The novel drug development solution approach for addressing the challenges encountered
Download your copy today.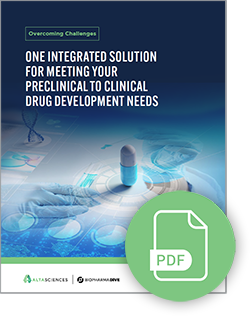 Let us help! Speak with our experts today.
You may also be interested in the following:
Webpages:
Altasciences transforms the traditional outsourcing paradigm by simplifying and streamlining drug development solutions, whether for a single study or multiple programs, to offer an integrated/synchronized approach to CRO and CDMO services from lead candidate selection to clinical proof of concept, and beyond.