Which Dosage Form Gets Your Drug to Market Faster?
Liquid-Filled Capsules ― Getting Your Drug to Market, Fast
Altasciences has developed and manufactured practically every dosage form on the market, and our experts agree that liquid-filled, two-piece, hard-shell capsules (LFCs) offer several advantages over other solid dosage forms, such as ease of scalability and manufacturing, faster absorption, simpler packaging, and excellent product stability.

With LFCs, scientists can effectively formulate poorly soluble drugs, while reducing development time and costs.

Watch our Executive Vice President of Operations, Ben Reed, explain in more detail.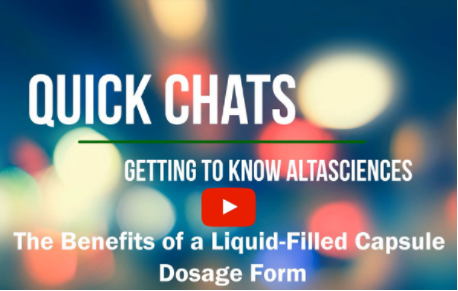 Are liquid-filled capsules suitable for your API? Speak with an expert to find out.

You may also be interested in the following:
Altasciences transforms the traditional outsourcing paradigm by simplifying and streamlining solutions, whether for a single study or multiple programs, to offer an integrated/synchronized approach to CRO and CDMO services from lead candidate selection to clinical proof of concept, and beyond.