Your Partner in Drug Development
Moving in Unison to Bring Your Vision to Life
Trust is an important factor in any relationship. And we know trust is earned.

That's why at Altasciences, our focus is on you. We build strong relationships with each client through quality science and proactive, responsive, and transparent communication that ensures you only have to Tell Us Once™.

When you choose us, you are choosing a partner that will work as an extension of your team — who treats you like colleagues and your projects as our own. We'll work side by side, getting to know your goals and understanding your needs. From preclinical to clinical proof of concept, and beyond, we'll advance your molecule in one integrated, seamless process, celebrating your milestones together.

Why? Because drug development isn't a transaction — it's a journey. Speak with an Altasciences expert to start your journey.

Watch this video to discover what it means to partner with Altasciences: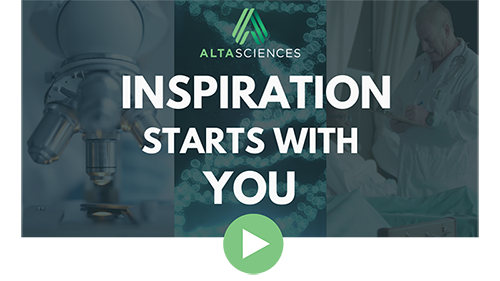 Have five minutes? Take a look at these:
Altasciences transforms the traditional outsourcing paradigm by simplifying and streamlining drug development solutions, whether for a single study or multiple programs, to offer an integrated/synchronized approach to CRO and CDMO services from lead candidate selection to clinical proof of concept, and beyond.